HOW TO MAKE YOUR NEXT BIRTHDAY AN IMPACTFUL ONE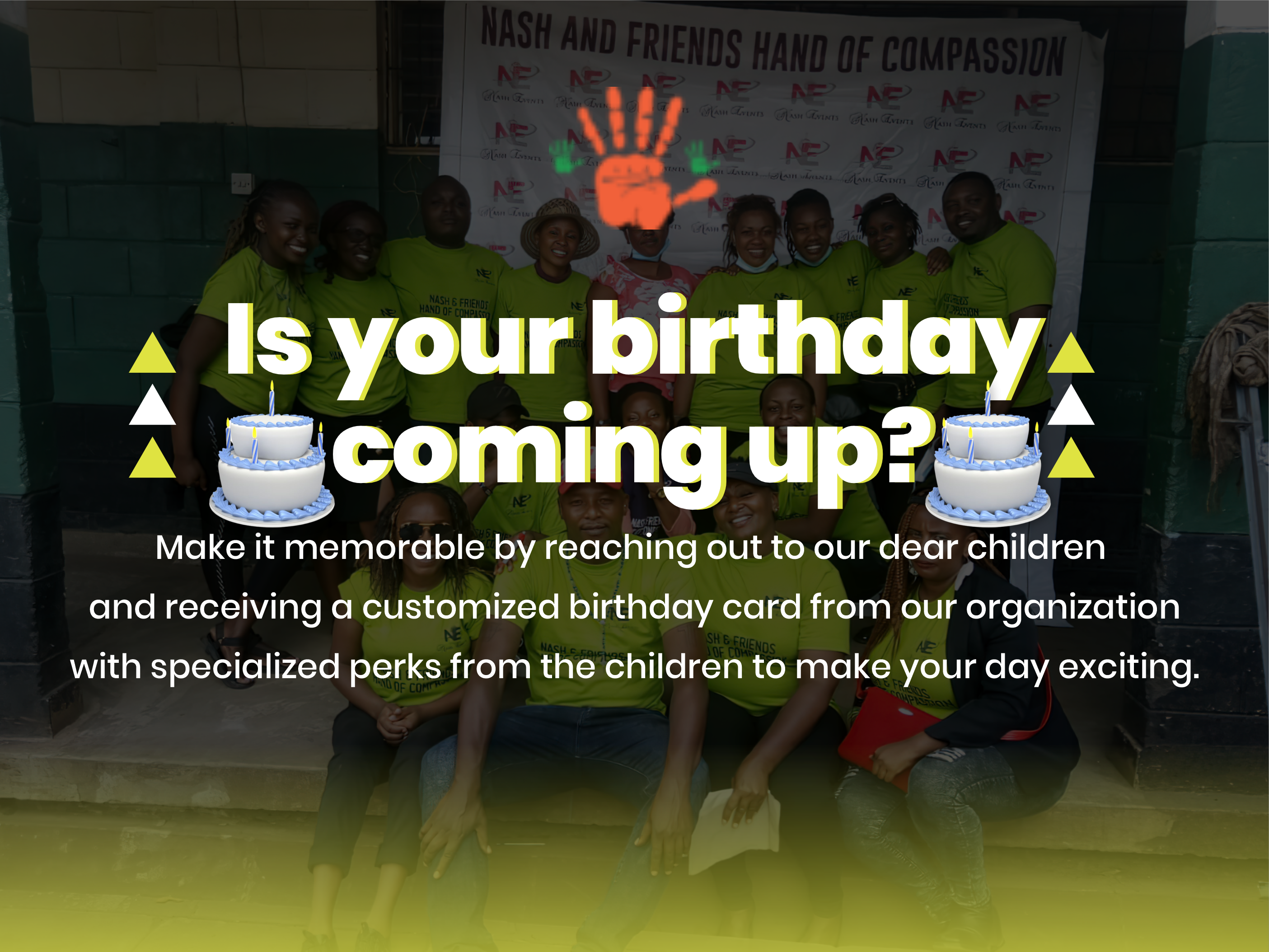 It's almost that time of the year again.
You are going to be a year older and it's only natural that you are grateful for how far you've come in life. For the opportunities, blessings, and provisions.
Just like always, your friends and family are looking forward to celebrating with you.
If you are like many of us here at Nash and Friends, somewhere in your heart, you may be thinking of how to make your next birthday an impactful one. You know, a way of giving back for all the good and help you've received.
Well think no further, Whether you are turning 28, 35 or 50, you can use your birthday to bring an ever-lasting impact in the life of an orphan child and that's the kind of birthday you will always remember.
If you are thinking of the stress, distraction and burden that comes with the planning and logistics to reach out to these kids, you do not have to worry any further. Nash and Friends Hands of Compassion got you covered.
Our founder, Naomi Kaburu has laid the foundation for just anyone passionate enough to reach out to orphan children in Kenya at a personal level without ever worrying about the planning, logistics while ensuring the sustainability of your impact in the lives of these children.
It all started during her birthday in May 2019 when she was led in her heart to reach out to the slums in Nairobi. To satisfy the yearnings of her heart, she mobilized the support of her friends and went all in. The feedback and result was massive.
That one move led to the founding of Nash and Friends, an incorporated nonprofit in the United States where Naomi and her friends (anyone passionate about helping orphans) from all over the world come together to feed and educate orphan children through her food distribution and back-to-school program impacting over 2,500 poor families and orphan children since inception.
Today, Nash and Friends is a huge success with over 20 volunteers visiting registered and vetted orphanages in Nairobi monthly with food, back to school scholarships and the good news of hope and love.
You can tap into these monthly missions through your next birthday. For $500, you and your well wishers can feed and send one child back to school for the next one year. For only $150, you can sponsor and feed one child for three months (one semester) and you can choose to sponsors as many as possible. Alternatively, you can choose to give as you are led.
While majority of us may never know what it feels like to be an orphan child but trust me, that's the reality of some children everyday.
No food, no education, no hope of a better tomorrow. Though we may never experience this life, we can help make life better for these children, even just a little. That's enough to ignite hope in their heart, believe in themselves and of course food in their stomach and a sound education to build the future that they desire.
Follow this link to learn more about how to donate your birthday through Nash and friend.
We wish you a happy birthday in advance.
All the best