Mission

"Hunger and lack of education are some of the major challenges orphans experience in Kenya. This
has led to hunger and malnutrition with many adverse consequences for their survival and well-being"
This has also led to far-reaching consequences for human capital, economic productivity, and our
overall national development.
Over 46 million people live in Kenya, and more than 35% of this population suffer from food
insecurity and malnutrition each year, with 2.6 million presently facing a food insecurity crisis.
To compound the issue, Kenya is experiencing a drought and according to Famine Early Warning
System Network (FEWS Net), 3.5 million people are expected to experience severe hunger over the
coming year.
While this scourge is experienced across all socio-economic groups within society, it is children
without parents (orphans) who experience the effect of this scourge the most.
This is why the life of an orphan is tough, leaving them extremely vulnerable to abuse and every
challenge known to man.
–
–
Seeing this scourge go unchallenged within our society, especially the slums where there is virtually
no hope, Nash and Friends have committed to changing the status quo by reaching out to one
orphan at a time with the hope that in no distant time, we will empower every orphan child in
Kenya with the nutrition and education they need to live healthy lives and build successful careers.

The feed and educate program is a special program of Nash and Friends designed to provide a
specialized intervention to these wonderful children regularly with proven success over the years.
Through this program, a hundred children are supplied with food packs (cost $25) capable of
providing quality and healthy nutrition throughout the month.
Also, children of high school age and out of school are identified from different orphanages with
school fees paid and provided with educational materials. The cost of sponsoring one child for a
session including educational supplies costs the organization $250 for each child. Through the backto-
school program, orphans who are done with high school will be connected to colleges in the
United States where they can get access to scholarships and quality education to build successful
careers.
Since starting in 2019, we have completed over 25 missions since we started, touching over 2,500
families and children from across Kenya.
–
–
Our goals for this mission are
1. To feed a minimum of 100 orphan children monthly
2. To send a minimum of 100 children back to school for the next year
3. To educate and engage the children we meet on our mission monthly on educational and exciting activities monthly
–
These food packs contain:
3 packets of Maize meal 2kg each
A packet of Wheat Flour 2kg
A packet of Rice 2kg
A packet of Beans 2kg
A packet of Tea leaves
A packet of Sugar 500g
A long Bar of Soap
Children's Diapers
Formula – Powdered Milk
Sanitary Towels
Porridge Flour (Oatmeal)
2Kg Cooking Oil
–
–
How can you be a part of our monthly missions?
–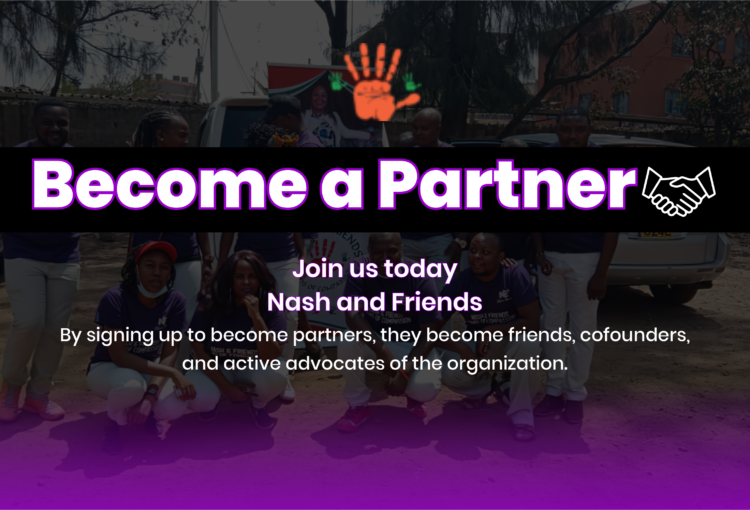 Become a Partner
Partners of Nash and Friends are friends, cofounders, and advocates of the
organization who pledge a monthly donation of $100 towards the mission of providing
nutrition and education to these wonderful children. You can learn more here
–
Support A child
With a commitment of $500 annually ($200 for education and $300 for feeding annually at $25 monthly), you can feed, educate and provide an orphan with every resource they need to live a healthy life and an opportunity to build a successful career. Learn more here
–
Chat with Nash
You can schedule a time to chat virtually over a cup of coffee with the founder Naomi Kaburu to learn how you can best be a part of the organization. Schedule a convenient time here